Podcast: Play in new window | Download (Duration: 41:48 — 57.4MB)
Subscribe: Google Podcasts | RSS | More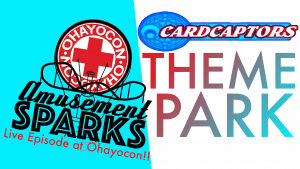 All seventy Clow Cards have escaped! Each one flows with a unique and powerful magic, and it's up to you to help collect them!
Experience and capture seventy different experiences, each a manifestation of a Clow Card.
This episode, the premiere of season four of AmusementSparks, was recorded live at Ohayocon 2018! This episode features Joe of Brave World Anime.
Produced by CUYOMI
Member of the FancyBat Podcast Network
Find the show at AmusementSparks.com